On a bike
There are two routes from the Cricketers in Alresford to Petersfield:
Cheriton, West Meon, East Meon and Stroud – 16 miles
Quiet bendy roads with less climbing, passing several excellent pubs, village shops and pubs.
Ropley and Steep – 14 miles
Long straight fast sections (for cars as well) with good surfaces, a Steep climb of 550ft in 5 miles, a cycle shop and a few pubs.
I have visited the links in bold and can recommend them.
Cheriton, West Meon, East Meon and Stroud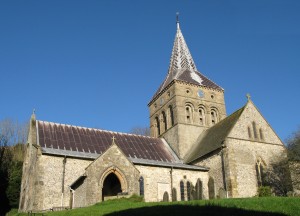 It's a pretty route mostly on quiet roads, winding its way through the villages, the Meon between the Meons. You can avoid 1/2 mile on the A272, go straight across it at New Cheriton and carrying on to Kilmeston where you turn left and wiggle your way back to route shown above. It's a 1 1/2 mile detour.
Cheriton has a village shop and the Flower Pots Inn. West Meon has the Thomas Lord and a village shop with a cafe called Tazzina at the back. East Meon has two pubs: Ye Olde George Inn and Izaak Walton, a village shop also with a small cafe. Butser Hill dominates the view to the south-east. There is a large pub called the Seven Stars in Stroud.
Church of All Saints, East Meon, Hampshire
Ropley and Steep
You will spend a lot more time with fast-moving traffic on this route. The section from Bishops Sutton to Ropley and from the A32 to the descent in to Steep. There is less but faster traffic and more space on the latter.
At Priors Dean you can turn left for a short detour to the Pub With No Name aka The White Horse. A bit further on you will find The Trooper Inn and then in Steep, The Cricketers Inn with Owens Cycles opposite. Turn left in Steep and a 1 1/2 miles further on you will find The Harrow Inn on your left. You can carry on and enter Petersfield on the old A3 from the North.
Petersfield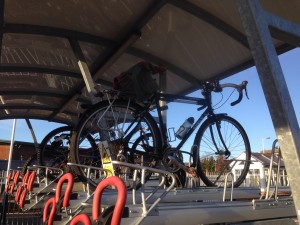 There is new bike parking at the Station. Covered double-decker bike racks. Lock up there and wander into town. You won't get far before deviating into the Cycle Works. Petersfield is littered with cafes, pubs and charity shops. I enjoyed a visit to Julie's Tea Rooms in Bakery Lane, excellent coffee and cake but no WiFi or EE data. Other good cafes are Cloisters Cafe pricy but you can sit outside and watch the Square go by plus Folly Tree Tea Rooms in Folly Lane.
If you have time wander into The Petersfield Bookshop and see if you can find any books on cycling.