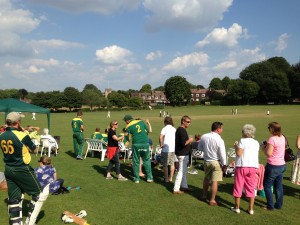 Last August bank holiday Monday was the Cheriton Sixes. It ran for 18 years without a break. Then the founder and organiser Phil Housden quite reasonably called it day. The event laid fallow last year but was revised in a simplified format by the club committee this year.  We had a great day and you read my write up at "I'm still in shock – Cheriton won the Sixes!"
I have never been allowed to play but I did commentate and supply the PA for 10 years.  Starting at 09:30 and finishing at 19:30ish.  I also stood down. This year I supplied the PA but did not commentate until the final.  I had fun serving burgers and sausages.
Public Address System and me are available for hire.